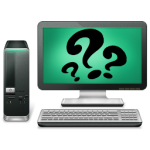 Hi Techie,

I just bought a new PC to replace my old machine, unfortunately, iTunes has none of my music on it. I've downloaded hundreds of dollars worth of music through the program, but I can't get it to open. What do I do?
iConfused
Hi iConfused,
iTunes is the top way to legally acquire digital movies and music, and as such has kept itself protected with what is called Digital Rights Management (DRM). DRM locks files and prevents them from being played or shared on illegal filesharing sites. The process for authorizing your new PC for your legally purchased MP3's and movies is actually pretty simple.
**One thing to note is that this method only works for content you purchased from the iTunes Store, so CD's you've imported will have to be transferred by another backup method such as a flash drive. For any files you have aqcuired from other sources (see our article on data backup for options), you will have to add them to the iTunes lirbary manually.
Open iTunes.
From the Store menu, choose Authorize Computer.
In the pop-up that appears, the Apple ID button is selected by default.
Enter your Apple ID and password. Then, click the Authorize button.
Connect your device your computer. If it is synced with another iTunes library, you may be asked if you want to "Erase and Sync" or "Transfer Purchases."
If this alert appears, click Transfer Purchases.
VERY Important: Clicking Erase and Sync will delete any existing content currently on your device. The content would then be replaced with the content that is on the computer.
If the "transfer purchases" button was not offered:

After connecting your device to the computer, its icon appears in iTunes. Click the icon.
From the File menu, choose "Transfer Purchases from 'Your device name.'"