Never Get Malware Again.
Managed Anti-malware from Northampton Computer Repair means you can stop worrying about computer viruses, spyware, rootkits and ransomware on your PC! It's a lot more than just antivirus. Our dual-engine cloud-based scanning system powered by Emsisoft means you are protected from: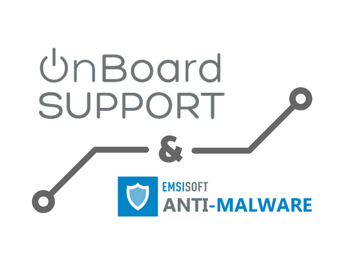 Ransomware: You're protected from these modern and increasingly destructive attacks.
PUPs: (Potentially Unwanted Programs) Goodbye useless toolbars, browser extensions and adware!
Bots/Backdoors: Your machine won't be remotely-controlled to attack others.
Banking trojans: Used in phishing attacks to steal account names and passwords.
And the best part? We guarantee it. If you are attacked we'll neutralize any threats and make sure your system is updated and secure.
You'll even get the peace of mind of having our OnBoard Support system monitoring that will notify you when there are other hardware and software issues with you system.
Get started by filling out the form to the right to sign up.
$5.99/month per PC