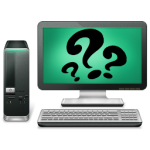 Hi Techie,
You have posted about backups before and made reference to USB flash drives. I have heard about these before, but am not familiar. Are they similar to jump drives and thumb drives?
Thanks,
Susan
Hi Susan,
It seems like a pretty simple question and a lot of people might think everyone knows what a USB flash drive is. Well, a lot of people don't know what it is or how to use it. We get customers in the store asking all sorts of questions about parts of their PC's that we take for granted. So we here at Northampton Computer Repair have decided to spend some time each week answering questions about basic computer hardware, software and everything in between. Things that a novice or anyone who is not a geek (and doesn't want to be a geek)may want to learn. We want to help people learn the basics in easy to understand terms to help them use their PC to do the basic things they want to do.
Flash drives go by many names, including, but not limited to, thumb drives, jump drives, keychain drives and a few others. A USB flash drive is a data storage device that includes flash memory with an integrated Universal Serial Bus (USB) interface. A USB flash drive typically is removable and re-writable just like the old floppy disks used to be, it's just that a flash drive is physically much smaller. You can carry these things in your pocket no problem, that's the beauty of them. A single 2 gigabyte flash drive holds about 1400 floppy disks worth of data. Even with the small size, drives can hold upwards of 256 gigabytes. Going forward, storage capacities as large as 2 terabytes are planned with improvements in size and price in the cards.
OK, enough of the tech talk, what do you do with a flash drive? Simply put, it's a small storage device that can be used to transport files from one computer to another. They now come in all sizes from a little bigger than a stick of gum to all sorts of novelty shapes that you can hang on your keychain to look cool. Go into any store that sells PC's or electronics and ask the store clerk for a USB flash drive and you'll be amazed at the variety. Next thing they'll ask you is how much do you want this thing to hold. Tell them what you intend to put on it and they'll direct you to one that will fit your needs.
Next just go home and find the USB port on your PC or laptop. I know you're going to ask: where do I find that and what does it look like? Just look around your machine and look for a symbol that looks like this:

Looking on your computer it'll look something like this: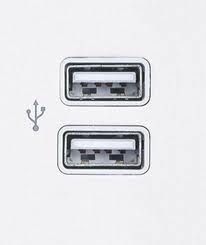 Now here's what a typical USB Flash drive looks like: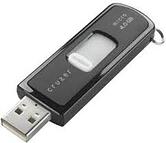 Okay, so now all you have to do is slip the USB flash drive into the USB port, simple: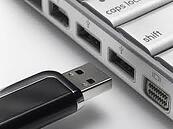 You're now ready to transfer files from your computer to your flash drive. When you insert the flash drive into the USB port, your computer will recognize the hardware and a screen will come up on your desktop. Click on the option that best suits your needs; if you're just going to transfer files, choose that option. From here on out it is just like transferring files from any folder on your computer to another folder. You can click and drag, copy or move, delete or open files and work on it just like and other folder or drive on the computer.
When you're done doing whatever you're doing with the file(s), right click on the flash drive icon at the bottom left hand of the screen and you will see a message asking if you want to remove it, click on that and wait a minute. You will see a message come up telling you it's safe to take the flash drive out.
Yank it out and you have your files, photos, iTunes or anything else you transferred to the flash drive in your hand. Put it in your pocket and your good to go. It's kind of like having the capacity of a huge filing cabinet in your pocket, is that cool or what? Bring it to the other computer that you want to transfer the files to and just follow the same procedure as above, plug it in, follow the directions, and presto, you will see all of your files come up. Again, just treat them as you would on your computer.
So now there's no reason you can't be cool and transfer anything you want and bring it with you anywhere you want to go and have everything you need when you get to where you're going without lugging around your PC or even your laptop if you choose to leave it at home. Don't you just love technology?
We would love to hear what type of questions you would like us to review and help you to better understand the wonderful world of PC's. Just fill out the form below and get those questions answered that you always wanted to ask.